"World Wide Web Born @ CERN"
In 1989, Tim Berners-Lee invented the World Wide Web (not to be confused with the internet) while working as a computer scientist at CERN. The web was designed to facilitate the exchange of information between the scientists working on CERN's experiments, wherever in the world they happened to be. It has since become an indispensable tool for billions of internet users.
Find out more about the history of the web.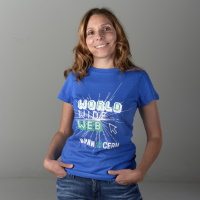 Technical Specifications
100% organic cotton.
Colour : blue 
Women's size guide in cm :
Size
A
B
    
    
    
XS
60
40
S
61
41
M
63
41
L
64
43
XL
68
49
2XL
70
51

Men's size guide in cm :
Size
A
B
    
    
    
S
67
49
M
70
51
L
72
52
XL
75
53
2XL
77
56
3XL
80
58