The LHC Interactive Tunnel is an educational gaming experience that can complement the other traveling exhibits. It consists of:
Four TV sets
Kinect motion sensors
A PC
Mounting structures.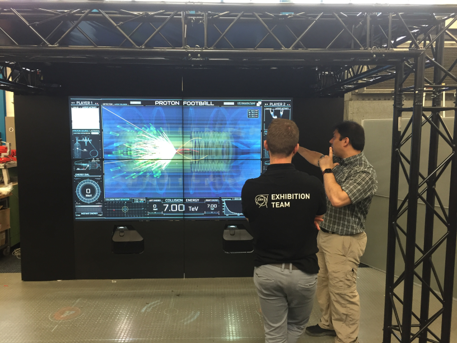 The transportation and installation of the LHC Interactive Tunnel is subject to technical and organisational requirements. Everyone can enjoy our interactive tunnel, but its educational value can only be fully appreciated if trained guides are available. We are ready to assist you in mounting the interactive tunnel and in training the guides. If you are interested in borrowing the LHC Interactive Tunnel for your event or venue, please follow the following steps:
Read the technical information sheet. 
Check that your venue satisfies the technical requirements. If this is the case, then:
Please contact us with your request. A member of our team will get in touch with you.
Please note that the LHC Interactive Tunnel is in high demand. We will do our best to get back to you quickly.