"I am the best you can make out of quarks and electrons"
Your body is made up of cells, which themselves are formed of molecules. These molecules are made up of atoms, each comprising electrons and a nucleus of protons and neutrons. Protons and neutrons are combinations of quarks.
With no measurable size, electrons and quarks are elementary particles, which are not thought to contain any other particles.
Find out more about the Standard Model.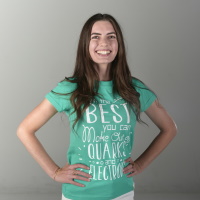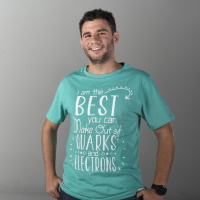 Technical Specifications
100% organic cotton.
Colour : aquamarine 
Women's size in cm : 
Size
A
B
    
    
    
XS
60
40
S
61
41
M
63
41
L
64
43
XL
68
49
2XL
70
51

Men's size in cm :
Size
A
B
    
    
    
S
67
49
M
70
51
L
72
52
XL
75
53
2XL
77
56
3XL
80
58