This small bracelet is made of a miniature version of an LHC dipole slice, showing the magnetic field lines.
The Large Hadron Collider (LHC) contains 1232 dipole magnets, which bend the paths of the protons moving at 99.999991% of the speed of light along the 27 km LHC ring.
Each magnet weighs 35 tonnes and is 15 metres long, with a current of 11,000 amperes flowing through its coils, which are cooled to -271°C. 
Click here to find more information on superconducting magnets.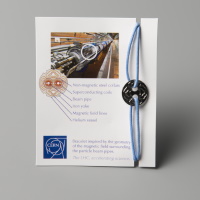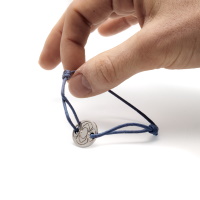 Technical Specifications
Adjustable closure, 14 to 22 cm
Currently only available in black or blue